Honors House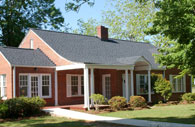 The Gordon State College Honors House -- at the end of Georgia Avenue -- contains a study lounge and reading room, a computer lab and a seminar room for honors courses and other meetings. There also is space for three faculty offices.
Local businessman Lance Toland made a donation to furnish a portion of the house. In honor of his generosity, a room has been named The Toland Study Room.
Onica Matsika, a sophomore, likes that space has been dedicated to the honors students. "This is light and open and very cozy," she said. "I will enjoy studying here and I like the fact that some classes can be held here."