Instructional Complex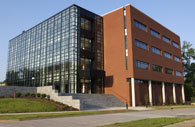 The Instructional Complex opened its doors in 2002. The over 100,000 square foot building is located between Russell Hall and the Hightower Library and is Gordon's new technology hub. It houses state-of-the-art multimedia classrooms, science laboratories, and computer labs. Each classroom has a network connected PC, an Elmo overhead projection system, and a multimedia LCD projector for instructional presentations.
Inside the doors of the Instructional Complex, students have access to all of the latest computer technologies.
The computer lab on the first floor holds over 70 computers for student use. The Information Technology Department is located inside the lab area (room 109).