Lambdin Hall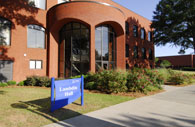 Lambdin Hall, named after Charles E. Lambdin, the man who served as the first president of the Gordon Institute, opened its doors in 1907. Lambdin Hall was originally built as a combination administration and classroom building for the Sixth District A&M School. The state closed the school, then known as Georgia Industrial College, in 1933 and offered the campus to Gordon State College. The high school and college departments moved to this new campus while the lower grades stayed at the original campus on Thomaston Street, where the public library now sits.
Today, Lambdin Hall is the main administrative building on campus. The building underwent a complete renovation in 2004 and was completed in early 2006.
The wide expanse of green lawn behind the building, the heart of the west campus, is called Lambdin Green.