Nursing and Allied Health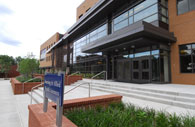 The Nursing and Allied Health Sciences Building, built in 2010, houses the School of Nursing and Health Sciences. At just over 59,000 square feet, the three-floor NAH building is designed to function much like a teaching hospital. The building contains two theatre-type lecture halls, classrooms, a multi-function collaborative learning center, four named simulation labs and administrative offices.
The main entrance to the building is from a plaza that joins the building to the center of the campus.